Renting venues at the gallery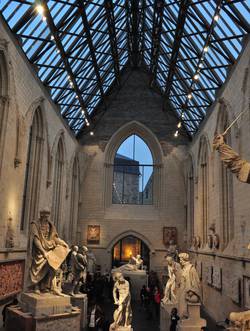 Organize your event at the Galerie David d'Angers
Are you looking for an unusual venue for a company function, a gala dinner or a charity evening?
The Galerie David d'Angers, situated right in the heart of the historic centre of Angers, a seven-minute walk from the train station, welcomes you to this magnificent architectural setting for a memorable event amongst the sculptures of David d'Angers.
Enjoy a guided visit and discover the works of David d'Angers, dine amongst the monumental statues and taste the magical atmosphere of this venue at nightfall!
A former 13th century abbey church, restored in 1984 and covered with a strikingly contemporary glass roof, the Galerie showcases the works of the sculptor, Pierre-Jean David d'Angers (1788-1856).
This bold architectural renovation juxtaposes typical materials from the Anjou region (freestone and slate) with modern materials (iron, concrete and glass). The architect Pierre Prunet wanted to preserve the building's status as a Listed Historic Monument. He therefore covered the building's original structure with a glass roof supported by a wooden frame. The transparent roof fills the place with the light needed to best display the sculpted works within.
The Musée des Beaux-Arts, just three minutes on foot from the gallery, also offers spaces that may be privatized. It is equipped with a 90-seater auditorium, ideal for meetings during the day or in the evening.
For more information on renting venues at the Musée des Beaux-Arts, click here
Fees
From just €900, the gallery is yours for the evening!
For more information on fees, click here to see the gallery's rate card
Practical information
Capacity:
Cocktail reception / up to 100 people (standing)
Sit-down meal / up to 60 people
Cultural programme
The rental of both venues is contingent upon the programming of a cultural activity at the Galerie David d'Angers or the Musée des Beaux-Arts (temporary exhibitions or permanent collections). Contact us for more information on cultural programming.
Hours
An event can only be organized outside of the gallery's opening hours. For information on the gallery's opening hours, click here.
Information/Bookings
Contact: Martine Chartier
Email: musees(at)ville.angers.fr
Tel: + 33 (0)2 41 05 38 08
Documents to download (in french)