From Primitivism to the Renaissance, 14th to the 16th century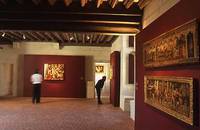 Primitive is the term generally applied to Italian painters from the 14th and 15th centuries, until the age of Raphael and Leonardo da Vinci. This term however can also be applied to Flemish, French and German painting. It is a form of painting that is almost exclusively religious.
The Renaissance, born in Tuscany, was a period of intellectual and humanist growth that developed in the 15th and 16th centuries and progressively spread to all European art.
Italian and German painting (15th - 16th centuries)
The fine arts collection starts in a room on the first floor of the Logis Barrault, with its freestone walls. The wood panels presented here come from two very important Italian centres of art: Siena; works by Segna di Bonaventura, Le Jugement dernier (Last Judgment) and Pisano, Vierge à l'Enfant (Virgin and child), whose works perpetuate the model of the Byzantine tradition. The other important art centre represented here is Florence: La Vierge à l'Enfant et Saint Jean Baptiste adorant l'Enfant (The Virgin and Saint John the Baptist adoring the Christ Child), 2 cassone panels: Siège de Carthage (The Siege of Carthage) and Comblement d'un puits (The Filling of a well) – which demonstrate the interest for the body, space and perspective typical of the Renaissance. A rare Crucifixion from the Avignon School (15th century) is an example of the international Gothic trend.
At the end of this sequence of works, dominated by Italian painting, we can see a piece painted in a very different style; La Circoncision, c. 1500, attributed to the Maître à l'oeillet, from Baden [Translator's note: a group of late Gothic Swiss painters who signed their works only with red and white carnations], representing the German School.
In the passage leading to the room with the fireplace and the little exhibition room adjoining it (late 15th century), a small section is devoted to the evocation of the Portrait in sixteenth century Europe (Flemish, Dutch, French and English works). Here, we witness the emergence of the individual portrait from the highly codified religious painting of previous centuries: (works by Benson, pieces from Clouet's workshop, which bear similarities to Hans Eworth's oeuvre...).
The Collectors' Room
Staying in the old part of the Logis Barrault in the so-called 'fireplace room' with its Gothic-style fireplace built c. 1486-1493, visitors can admire the collections of collectors behind the glass cabinets along the walls or in the centre of the room. These collections of precious objects were donated to the museum; the first bequest was in 1859 by Lancelot-Théodore Turpin de Crissé (1782-1859) and the second in 2003 by the widow of Daniel Duclaux (1910-1999). Both contain objects from the Middle Ages and the Renaissance: ivory, enamels, ceramics, bronzes as well as religious paintings by the Flemish Primitive artists from the 15th and 16th centuries: Bellegambe, Master Hoogstraerten and from the workshop of Van der Weyden…