Histoire d'Angers 's trail (The History of Angers Collection)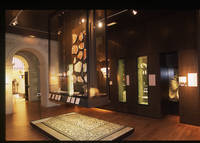 The very first traces of human activity found along the river and on the rocky promontory overlooking the Maine River to the city of Angers as it is today, are examined by the Histoire d'Angers exhibition on the ground floor of the Musée des Beaux-Arts.
Created shortly before our era, the Gallo-Roman town of Juliomagnus spread over 80 hectares and illustrates the extent of the Roman influence on the Gallic oppidum. This can be seen through the mosaic of a private residence uncovered in 1878 at the Place du Ralliement, as well as the stone fragments, amphora and ceramics that reveal the city's commercial function and the funerary rites (by incineration) on the site of the necropolis (the present-day Gare Saint-Laud).
Throughout the visit, the public will discover some 500 objects, coming from ancient and recent archaeological expeditions (4th century silver fibulae, 9th century glassware from the castle), civil and religious monuments (a 12th century two-barred cross, the Olifant from the cathedral), guilds (pewter and silverware), factories (slate, printed fabrics called indiennes) and local companies (horticulture, religious art and fairground art with the donkey from the Bayol merry-go-round).
Other objects on display that bear witness to the history of Angers include the key to the weapons of the city, the Autel de la Patrie), portraits, paintings (L'Adoration des Mages from the Abbey of Ronceray, and images of the city.
Maps, photographs, models (the potter's kiln, the 17th century bridge) allow visitors to place these objects in a context and to easily understand the growth and development of the city throughout the ages.