Musée Pincé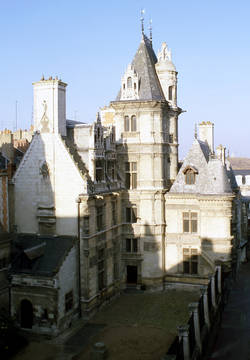 The site
Situated in the centre of Angers, this private mansion, known as the Logis Pincé, was built between 1530 and 1535. It was left to the city of Angers in 1860 by the painter Guillaume Bodinier in order to house and showcase the collections bequeathed to the Musée des Beaux-Arts by the painter, Lancelot-Théodore Turpin de Crissé.
Renovated by architect Lucien Magne in a neo-Gothic style, the museum opened to the public on the 1 July 1889.
The private mansion was originally located in an inaccessible maze of narrow streets. The construction of the rue Lenepveu tripled the surface area of the entrance courtyard, whose original surface area is delineated on the ground by cobblestones. The private mansion consists of two buildings arranged in an L-shape around an imposing staircase tower surmounted by an upper house. This section was later taken over by the Logis Barrault (the current Musée des Beaux-Arts).
The collections
The museum's collections were constituted through the different bequests by Turpin de Crissé. The Musée Pincé therefore houses Turpin de Crissé's collection of Greek vases and small antique statuary, as well as an Egyptian collection, reflecting the former glory of the Pharaonic civilization.
The museum also features some Japanese art. Lacquered objects, masks, armaments and engravings provide visitors with an insight into the traditions of the Land of the Rising Sun. The museum recreates a tearoom where visitors may enjoy a moment of contemplation around the ritual gestures of the tea ceremony.
Chinese art is also featured: the Musée Pincé houses a sumptuous collection of ceramics, bronzes and fabrics, all of which illustrate the wealth of Chinese art.
Amongst the narrow rooms of this splendid Renaissance setting, visitors are invited to partake in a personal journey, where learning and poetry combine to transport the public through Greek, Roman and Egyptian civilizations, as well as an exploration of the art of China and Japan.